recruitment
Join the team
Take part in the iFollow experience: be part of this great family of mobile robotics enthusiasts at the service of people.
Each month, iFollow recruits 2 – 3 either Hardware or Software robotics engineers. We're looking for multidisciplinary mechatronics, embedded systems and data science, oriented profiles on a daily basis.
Interfacing to customer modules is necessary for our robots to receive the assigned missions. Our developers make sure that all the information that passes through is displayed in an ergonomic way.
Manufacturing is one of the company's most important value. We have chosen to produce 100% of our robots in France. This requires a motivated team that works every day to ensure that we meet the deadlines requested by our customers.
YOU HAVE AN ATYPICAL PROFILE, AND YOU DON'T FIT IN CONVENTIONAL NORMS ?
That is the profiles we like the most. Feel free to send us your résumé
ABOUT

i

FOLLOW
With its expertise in collaborative robotics and artificial intelligence, we work every day to ensure that our robots are perfectly adapted for use in cooperation with humans. We have chosen to design, customize and manufacture our robots in-house to keep the agility of a young innovative company. Our assembly line and our design office can be visited on request.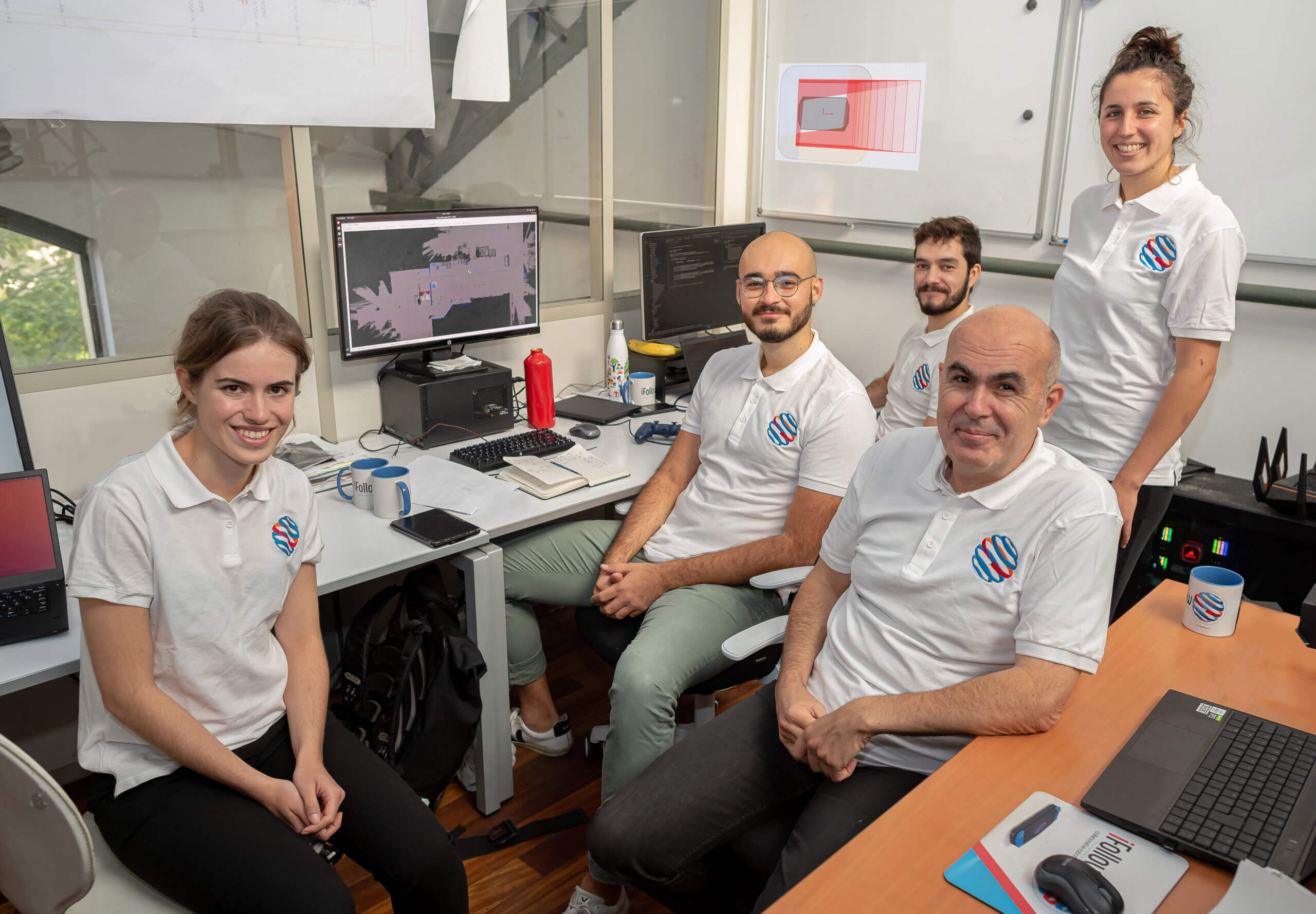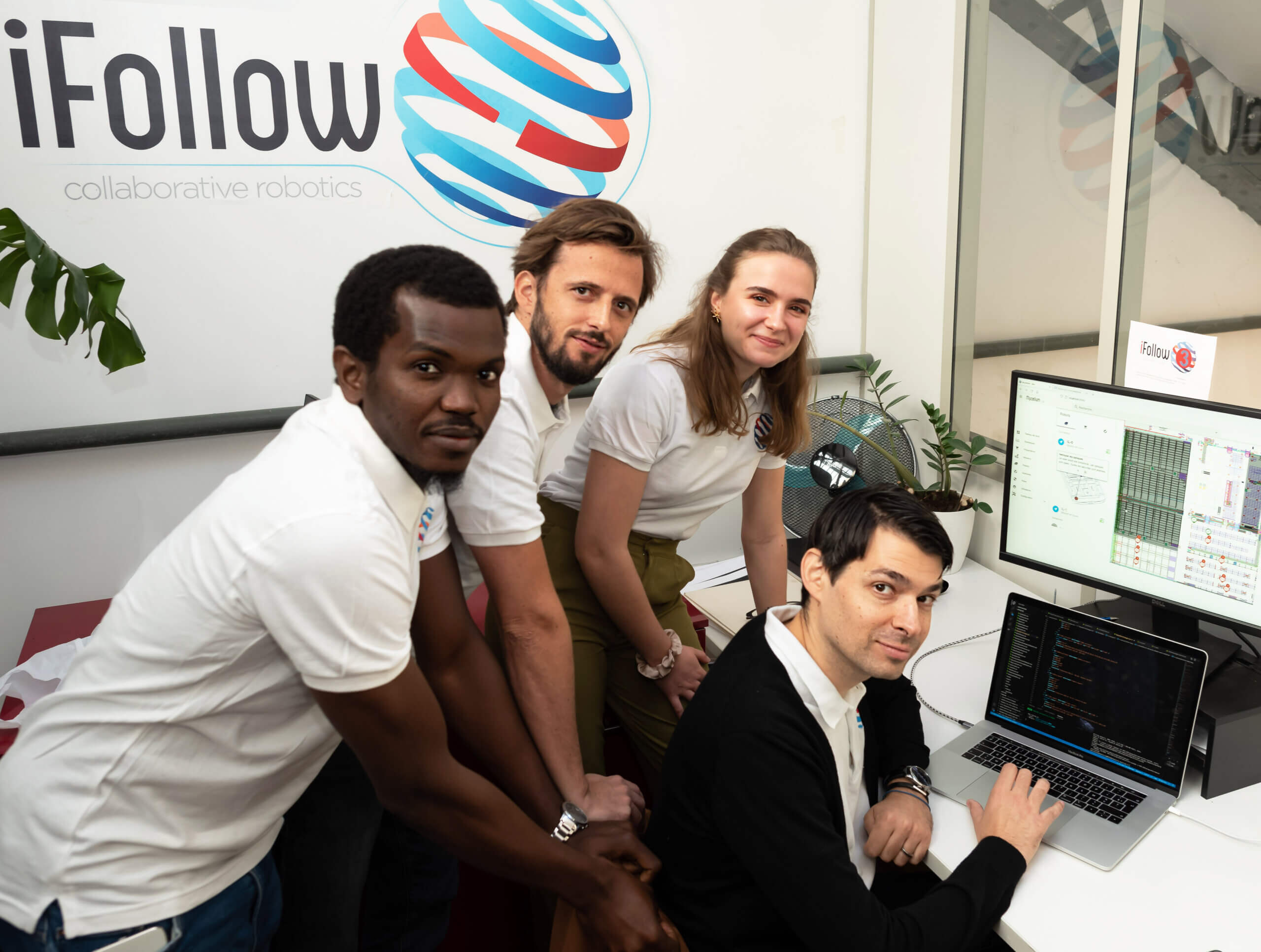 THE

i

FOLLOW

TEAM
Divided into 4 business units, the iFollow team works in full collaboration :
The sales team led by Remy Leveque is in charge of setting up customer projects and assisting them in the integration of robots on their production site.
The Hardware team led by Maxime Serret designs and produces the machines.
Fabrice Noreils manages the robotic intelligence team. This team is responsible for the autonomous and secure navigation of our robots whatever the environment.
The Dev/IT team led by Nicolas Vallée is in charge of the software development of the human/machine interfaces and the interconnection with the customer's IT systems.
Our Mission
Conceive robots that increase productivity.
How ?
By collaborating efficiently with operators
Our fundamentals
Understanding your needs by adapting to your constraints
Salary related to the world of robotics
Remuneration is a fundamental point that we take care to study on a case-by-case basis according to your experience and your technical level.
A mutual insurance company worthy of large structures
All your care is taken care of by the mutual insurance company for which our human resources department has opted, namely, Alan
A structured and connected management
Every day, we all have lunch together so that we maintain a strong bond between managers and employees. Lunch is offered every day by iFollow.
A young company and a positive dynamism
We hire expert profiles that contribute greatly to the training of our young interns and work-study students.
A context favorable to work
We work in an industrial loft custom built by architects, in a former gingerbread factory.
Guaranteed weeks of vacation (December and August)
iFollow takes a rest each year during the Christmas – New Year holidays and during August.
Rewarded objectives achievement
Each position is responsible for a specific task. You reach the goal you have set, it is normal to reward you for it.
Training and enrichment of your technical or commercial profile
Each employee, intern or apprentice has access to training through regular contact with expert profiles in their field ready to pass on their knowledge.
START THE RECRUITMENT PROCESS