INNOVATION
iFollow and Marceau collaborate and launch an AMR with a conveyor belt
25.02.2021 – 17h22 | by Charlotte COUSIN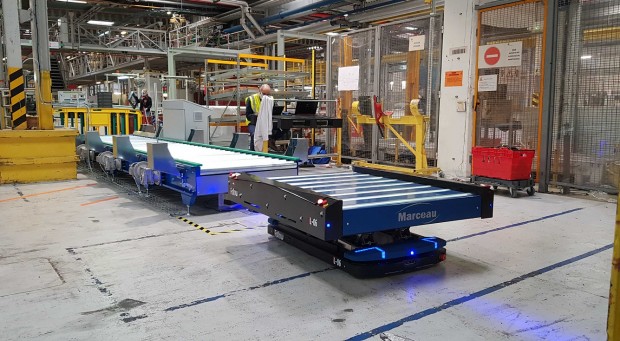 © iFollow
The two French companies have pooled their know-how to offer the AMR iL-Conveyor, an autonomous mobile robot with a motorized roller conveyor, designed for the industrial and logistics sectors.
This is an innovation 100% made in France. The robotics start-up iFollow and the conveyor manufacturer Marceau have joined forces to design an autonomous and collaborative mobile robot with a motorized roller conveyor. This is the result of a pooling of the two companies' know-how: iFollow, as a specialist in collaborative robotic solutions (AMR, autonomous mobile robots) with expertise in firmware, programming, radar, mechanical design and onboard electronics, and Marceau, as a recognized industrialist in intralogistics, particularly in pallet handling, with more than 3,500 achievements.
A collaboration born in 2020
The iL-Conveyor autonomous mobile robot is the result of this collaboration, which began in 2020 following the request of a customer from the plastics industry. Dedicated to the industrial and logistic sectors, the solution enables links between different workstations and palletization, thanks to AMRs equipped with conveyors. Its objectives: to improve the transport of loads in the warehouse to achieve greater flexibility and productivity. The result of joint work between the companies' two R&D divisions and based on AI and machine learning, the AMR is capable of transporting pallets weighing up to 1,000 kg between areas equipped with conveyors, interconnecting heavy automation machines and eliminating load breaks between industrial islands. Based on iFollow's iLogistics-1000 robot, which is able to move on imperfect floors, it also incorporates Marceau standards, making it capable of handling wood and plastic pallet formats ranging from 800 to 1,000 mm in width, with a maximum length of 1,300 mm. The two companies also rely on the flexibility of the solution, which can be adjusted to the needs of each customer and type of industry in terms of collaborative logistics and pallet handling.
Made in France
Both members of the French Fab network of French manufacturers, iFollow and Marceau intend to produce their machines in France, using French or European components: « Producing in France is a guarantee of quality for which Asian countries are grateful, » says Nicolas Menigoz, iFollow's CEO and CTO. Several iLogistics robots are already in service in Japan via the integrator PMT Corporation.