INDUSTRY
ROBOTIC SOLUTIONS
Our autonomous robots belong to the field of industry
SUPPLY
SHUTTLE
This mode of operation allows the transport of loads, parts, modules on the different stations of an assembly line.
Interfaced to your ERP, our fleet manager will be able to answer all calls using Kanban tickets.
FINISHED PRODUCTS
EVACUATION SHUTTLE
Your factory produces by islets. This mode of operation is made for you: the finished and semi-finished products will be transported according to your needs from the station calling the robot to a destination that will be defined for it.
Your finalized parts leave directly to the shipping docks while the semi-finished products are transported to the next strategic station.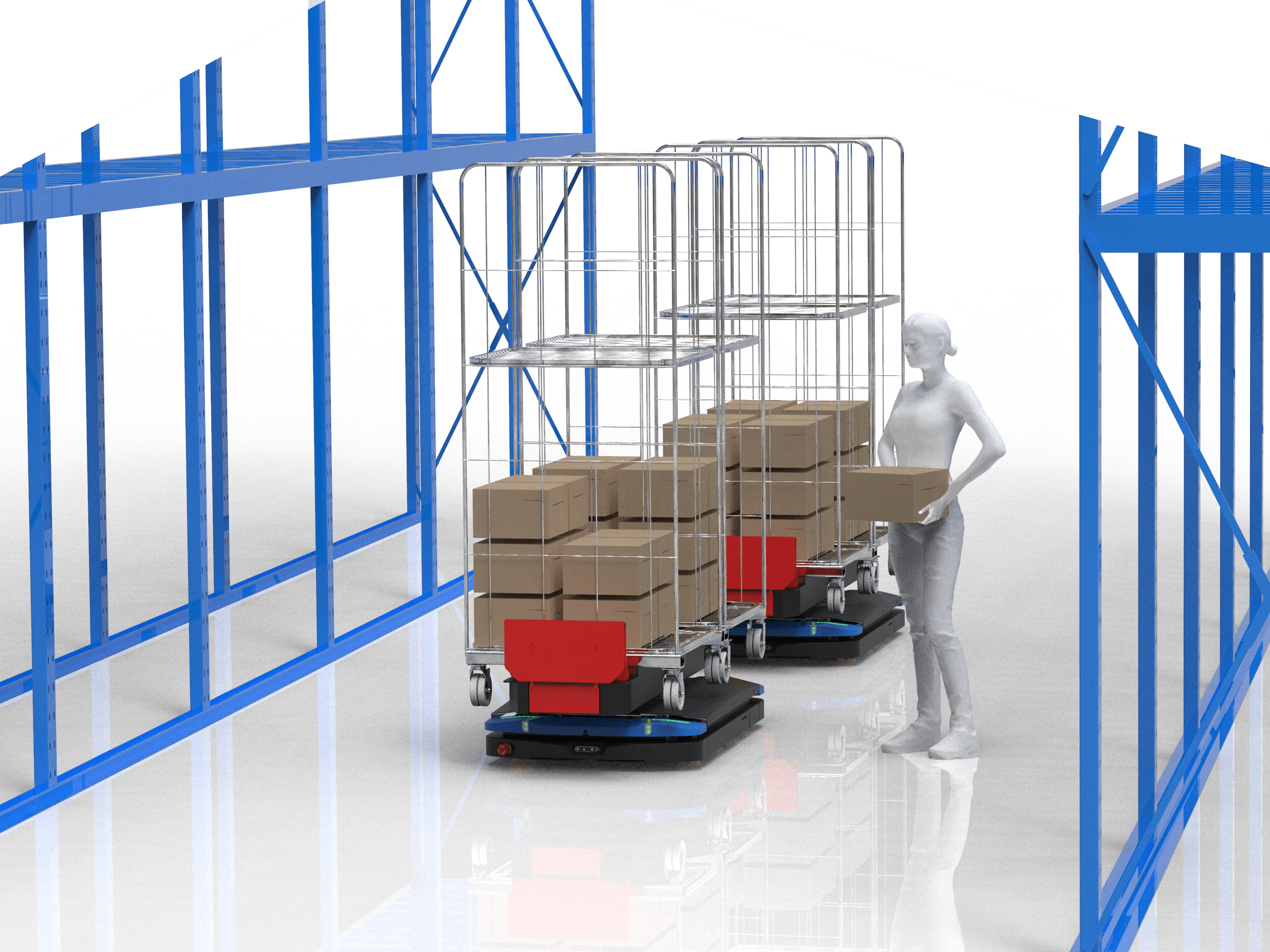 COLLABORATIVE KITTING &
ORDER PREPARATION
This use case concerns factories that stock various parts and constitute assembly kits prior to production.
Our robots allow the efficient preparation of assembly kits by maximizing the productivity of your operators.
The connection to your ERP allows a wide choice of cooperation with your operators.
STRAINED ENVIRONMENT

 CLEAN ROOM

CONTROLLED TEMPERATURE

Our robots can evolve from -25°C to +40°C, in constrained environments.

It doesn't matter if your slab is not perfect, our robots are designed to overcome such issues.
GLOBAL MANAGEMENT OF THE
END-TO-END PROCESS
In a global approach of order preparation robotization, we have chosen to collaborate with MARCEAU company in order to realize customized automated systems allowing the picking and the deposit of the preparation supports upstream and downstream of the picking activity.
Customized and
automatized devices integration on AMRs
You have

Out-of-format

frames specific to your company

We adapt the lifting platform to your needs in order to fill the use case with a single type of robot.
Contact us and send us the plans of your handling supports, we will do what is necessary to satisfy your request.
Our robots connect to your
current environment
We will brainstorm together to achieve the complete interconnection of our AMRs with your automated handling solutions: flow optimization and simulation analysis is sometimes necessary to properly size the number of robots making up the fleet and obtain reasonable returns on investment.
Whatever your process are, we reduce the interface buffer zones to a minimum in order to avoid load breaks. Our robots must cover your requirements as a whole.
WHAT IF EVERYTHING INTERCONNECTED ?
OUR AMRS' FOLLOW THE ORDERS OF YOUR WMS WHICH ARE TRANSCRIBED BY OUR SUPERVISION SOFTWARE, MYCELIUM
Our hypervision and robot fleet management software can be implemented on any type of computer. The web application can even be consulted on a smartphone. This way, you can program your robots from elementary bricks. With a few clicks, you can modify the locations, the missions assigned to the robots as well as the scheduling of tasks.
Connectable to all WMS and ERP on the market, Mycelium is an essential tool for transport and order preparation.
Presentation of our controlling software : Mycélium